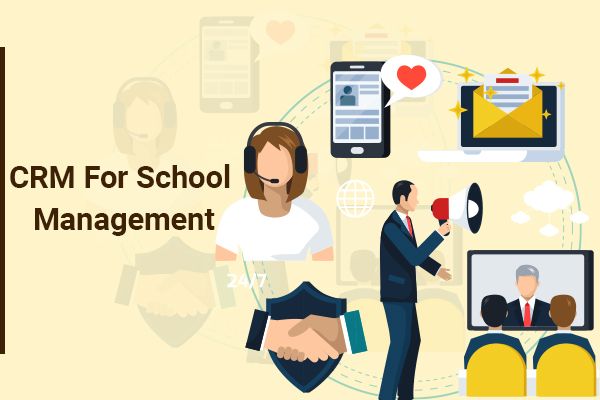 The lead management system ensures the interaction of the students and the performance of the beginners is increased. The other functions help to keep track of communication and marketing and to manage the admission for students.
In addition, CRM systems present real-time numbers, data, and graphs that can be useful in decision-making.
1. Organizational Management:

Organizational management is a collection of different components of the management of a company. The actual structure of the organization is utilized to collect information to analyze it. This analysis is used to develop a process that will be implemented and carried out through meetings, training, and advertising. Each organization promotes official management differently, depending on the individual requirements of the organization.
a) Faculty and Staff Management
Manually listing information leads to information irregularities and poses problems of quality, security, and simplicity. Using the management software to get rid of such risks and increase employee performance.
Faculty and Human Resources Management promote college and university staff to effortlessly manage students and provide them with access to class reports.
In addition, the administration has tools to keep employees to be informed of the latest updates via email, notifications, and SMS, namely via email, notifications, and SMS about news, opportunity statements, rating, events, and crises.
b) Student Success and Retention System
The real part of student success is how efficiently students are able to achieve their current and future academic, personal, and professional objectives through the development of knowledge, accountability, confidence, and a connection to the school and the broad community.
Student retention is a part of how efficiently a school ensures academic success or graduation. Collaborator uses it to calculate a school's performance. Encouraging student retention in-house is useful for enhancing programs, curricula, faculty, and academic support.
Student retention is useful to the school because it ensures a continuous flow of income into the institution through the payment of studies. This is essential for public institutions as institutional support depends on the size of the student community.
c) Student Recruitment and Marketing Program
Recruiting new students online often includes achieving strong SEO on your website, attracting students with paid search promotion on sites like Google and Yahoo, and connecting with students through social media networks like Facebook.
Here are some steps to improve your student recruitment approach:-
Make sure the course search covers different stages of the research trip
Use the course page to motivate
Give a clear route to the next steps
Adjust supportive content to meet larger emotional needs
Show what sets the School apart
d) Campaign Management Program
The role of a campaign manager program is to combine data on the target market with present client data to drive effective marketing campaigns. The campaign management program is all about the budgeting, implementation, monitoring, and analysis of a marketing process. This can be a marketing promotion to start a new product launch or event, but it can also be a small advertisement.
With campaign management software, companies can manage the many terms of a marketing campaign.
e) Lead Tracking and Sales Generation System
Leads are recorded in lead management, and all contact points with your company such as e-mail, chat, or website behaviour are tracked and qualified and activated until you buy your product.
All types of business, big or small, depend on leads.
To expand your business, you have to convert leads to dedicated clients.
To do this, you need to have a complete view of sales and marketing leads in an organized manner.
The Lead Management Process steps:-
Lead capture
Lead enrichment & tracking
Leadership skills
Lead distribution
Lead development
2. CRM Development & Enhancement:

CRM development means that you can customize your CRM solution to suit your business goals or create custom functions from scratch. The quality promise that the CRM performance is working implies checks, errors, and deficiencies at the system points as required.
a) Custom CRM Development
A high-quality and customizable CRM software development service helps many clients achieve goals and offers features that suit your business needs.
Benefits of Using a Custom CRM:
It's easy to use
Provides proper integration into business operations
You get a competitive advantage.
Have access to cheaper operations
Best Analytics
b) CRM Customization
The concept of CRM change is a process of adding new or changing existing CRM functionality to better suit the needs of the business. CRM is geared towards your choice of requirements, such as constant, protect, flexible and expandable, can coordinate information about different departments and improve collaboration between them.
Here are some steps to building custom CRM software.
Aim for developing a CRM
The character of CRM systems
Approach levels and roles in CRM
Properties of a CRM system
c) CRM Software Testing
With CRM software testing, you can improve customer relationships by ensuring that CRM records, reporting, and test data are working correctly over all platforms, and by keeping you informed of developments in the several incorporation systems and channels. Testing is the element of CRM testing that determines the implementation of your application project.
A trial period is common for most major software systems, even the CRM software used by companies. Testing helps identify errors and improves the use of the system. CRM testing is fundamental to the success of any CRM activity.
CRM system tests can identify powerful defects in CRM software and help companies improve the quality of software.
Low user acceptance
Incorrect customer management
Lack of visibility of customer management
Information exposure
d) CRM Integrations
A CRM integration is a smooth connection between your CRM software and third-parties providers. Your CRM is not only considered for communicating with customers, it should also create alignment and optimize communication in your company. Software integration is not always the obvious thing in the world. But it's worth the effort.
You should consider adding to your CRM integration list:-
Marketing Automation
Business Intelligence
Enterprise Resource Planning (ERP)
Email
Calendar
Customer service
Social Media
Website
CRM Benefits in Education:

Magnify recruitment efficiency
Manage the entire division lifecycle
Organize Operations, making cost-effective, heighten revenue generation processes and develop management
Track the admissions and applications processes and communication with students once they log in
Integrate with other campus programs
Establish and consolidate the relationships with students and keep them engaged in all processes.
Maximize Conversion Rates
Improve approval and registration details.
Improvement of the student relationship with the institute
Save received documents and remind you of pending documents
Track leads sources
Keep track of the courses with the most questions
Maintain the Course details with fee structure.
Real-time MIS reports and analytical data everywhere