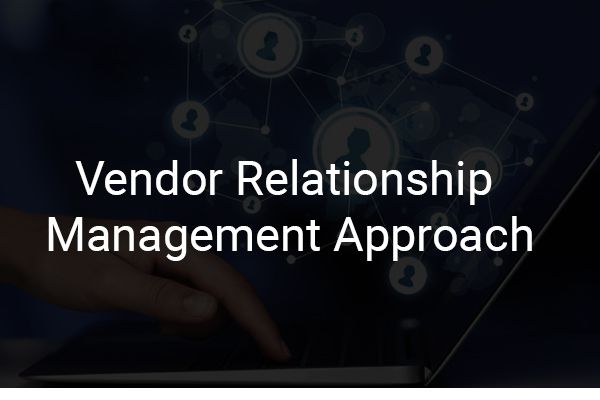 What is Vendor Relationship Management?
Vendor Relationship Management is the regular effort to drive the Process Improvement in business communications between buyer and seller by the electronic system or manually. Nowadays, there are many portal providers/vendor portals that have been brought into the picture/market for maintaining real-time/transparent communication between buying and selling organizations.
How to make effective and flexible vendor relationship management?
Some of the important relationships that you will build in the course of your business are your third-parties vendors and suppliers. As a business owner, you will need to rely on other experts for materials knowledge, equipment care and maintenance, and more. Don't expect to know or source everything you need for your business, therefore, these relationships are critical to long-term business success.

You have the option of choosing between several suppliers who will give you what you need, when you need it, and at the right price. Assess everything from response time to their contract terms and costs. Relationships are most successful when they have the time to grow, so you want to choose a supplier that you and your business can grow with.
The easiest way to provoke a bad will in any relationship is a lack of communication. Take the time to communicate with your suppliers and request the same type of contact in return. This is important when it comes to deadlines.
3. Understand their business
While you don't necessarily need to understand every shade about a supplier's business model or operating procedures to know their policies, they will help you to better understand their values. They also get context to the challenges they face. This is especially important if you work in a company with changing priorities and deadlines that require a great amount of flexibility.
4. Plan contingencies liabilities
There are normal everyday emergencies that you should create a continuity plan for, such as delayed deliveries or pallets due to weather. Major disruptions such as natural disasters or critical equipment failure must also be planned.
5. Think as much about rewards as you do penalties
There are Penalties for times when someone fails to stop their end of the business. With that in mind, there should also be a reward for doing the job beyond expectations. It is important to think about worst-case scenarios, but also assume that suppliers will exceed your expectations and be rewarded for doing so. A reward could be a particularly quick payment or a simple Thank-you letter.
Both the customer and the supplier are responsible for the success or failure of the working relationship. Take responsibility for your place in the process by recognizing that your decisions, delayed timing, or changes in project scope directly affect the supplier's ability to do their job well.
7. Invest in supplier management software
This is really to help keep your stability or the health of your office manager. Supplier relationship management software is particularly important as the number of suppliers you work with increases. SRM is used to review supplier performance and gather all of your supplier details in one place. Many SRM programs can also be linked to accounting software for smooth invoicing.
Your supplier is doing a job and should be refunded for it. Think about the last time a customer paid you late. Even if they told you the check would be a few days late, in terms of the slight problems you felt while waiting, and the relief you felt when the check finally arrived. By paying your suppliers on time and honouring their payment terms you show that you respect them and their work.
This is an alternative to planning for crashes or setbacks in your production plan. Staying flexible means adjusting to everyday problems.
10. Work regularly on promoting your relationship
Check out the opportunities outside of general daily contact. Wherever you have a quarterly meeting or invite your suppliers to visit your facility, it should be spending time with them and creating stronger bonds. Ask your suppliers for feedback and encourage them to have open discussions with you about how the relationship could work better or more efficiently.
Best process in vendor relationship management:
Procurement teams need to find and implement them to reduce the total cost of ownership and improve the efficiency of their supplier management process.
Here are the three best process vendor relationship management:-

Companies with the best vendor relationship process have a complicated system to calculate the performance of their suppliers. Records, supplier ratings, and supplier performance reviews are used to hold vendors responsible for their performance.
Concern in the supply chain surfaces the way for a range of risks such as price volatility and changes in demand and more. Carefully designed vendor contracts reduce instability made possible by risk-sharing.
A really effective process for a vendor's relationship management process is based on trust. Buyers who confirm that their suppliers are financially and emotionally invested in the relationship have a good chance of gaining their suppliers' trust in a relatively short amount of time.
Solutions to improve your vendor relationship process:
When the appearance function is aligned with other business priorities and strategies, value proposition sourcing increases. As part of that value proposition, procurement managers continue to expand the role of procurement throughout the supply chain.

1. Express vendor screening
The vendor screening program does not screen the supplier's business unit itself, but rather the employees who hire those suppliers, employees who will have access to your facilities, systems, and confidential information. The process checks individual employees of your contract provider.
Real-time Partnership solutions can help bridge the gap between remote workers and traditional office workers, by making those remote workers feel as though they are in the same room with their colleagues. There are solutions that allow remote workers to communicate easily and share content with others.
While you understand the importance of a strong supplier relationship, others in your company cannot. When others are putting the company's best foot forward, you'll constantly take two steps back.
To make sure everyone is in the same place, first, make sure that you are given a good example, and second, give the training to introduce the new processes and principles
4. Easy vendor registration
Another way to improve vendor relationship management is to use the technology to simplify entire SRM processes. With technology designed for CPOs, procurement managers, category managers, and supplier managers, you can automate a meaningful number of processes that would require a great deal of time and effort if implemented without the help of technology. At the same time, the technology can be a much more fact-based attempt at the supplier relationship by having key facts related to the suppliers into one solution.
The performance of your suppliers promotes vendor accountability ratings and helps you reduce costs and improve customer satisfaction. Think of the process, as not just a measurement of metrics but a continuous improvement exercise. By clearly defining supplier expectations, and sharing the results with them, you will provide regular feedback to your suppliers that will help them exceed expectations and deliver additional value.
When an approved invoice is received, the finance team will make payments according to the contract terms. Changes to the contract or reviews of liquidated financial security are taken into account. A payment made to a supplier falls into one of the following five types: prepayment, partial payment, advance or instalment, balance payment, and withholding payments.
Vendor Relationship Management Software:
The software provides impressive communication channels, followed by work management tools, and also organizes payments, expenses, and contracts also through a single system. The VRM systems are usually software suites that help companies and organizations to take care of processes that are involved in the process of Vendor Relationship Management. These tools offer powerful, often cloud-based solutions that optimize communication and productivity and can be integrated into the entire work ecosystem.
Features of the Quality Vendor Relationship Management Software
Provide vendor management support
Offer contract management features
Archive vendor and contract information
Import data
Provide email support
The difference between vendor software and owned vendor project
Most Vendor software is expensive to buy/use. Quality software is hard to find that will meet your company's requirements.
In Vendor, the software may not be able to find a package that meets specific certain requirements such as Branded, Good visual design, lack of quality System, supported all platforms, Heavy Hardware support, less loading time, file and data handling, mobile-friendly but very much complicated.
The provider may keep the price down, but you will be charged for any customizations in the software such as Plugin, Themes, Database related, Security issues and certification problems, Error handling, and other problems.
Owned vendor Software is the only solution to save your pocket, money and stop wasting time. Usually cheaper than custom software and faster to implement. Software that exactly meets the requirements and is easier to modify.
We can implement anything we want and often more efficiently than custom software.

Getting the function you want as desired
Cost-effective (50% down) And Time Savior (6 months of learning, but the software can be created in one month)
Heavy System is not required
Easy to Understand Software Functionality
New and advanced technology systems with upgrading for the future
Implementation and operation of an online Portal that can integrate with the ERP System of Supplier and Buyer Organizations.
Analyze the best 20 Suppliers of the Year. If you want, you can take over 100% of suppliers and include them in the use of the Supplier Portal for RFI, RFP, or RFQ by submitting their offers
Contract or Order confirmations received from Buyers
Create and send online invoices for shipment
Clarity of receivables and payables in real-time
Make it easy for buyers to create and publish online catalogues to browse and select products to make things easier.
Integration with the existing ERP system to receive PRs from the user department.
Complete the RFx process via the online supplier portal, bid analysis, order approval, and confirmation.
Automatic sending of confirmed orders to the ERP system for further GRNs.
Use the simplicity for the ASN confirmation of the supplier through the reception department store. So that the accepted shipping notification can be automatically forwarded to the ERP system for further invoice processing.
Automate the process of invoice matching with order and ASN confirmation comparison.
Monitor and manage payments in real-time.
In addition, vendor relationship management begins with the criteria for supplier loyalty and preselection before participation in bids is permitted.
In any case, the vendor relationship management ends with calculating the Vendor performance over a certain period of time, almost quarterly, the classification of the vendors based on performance, and further blocking and/or releasing the provider for a certain period according to the company guidelines.