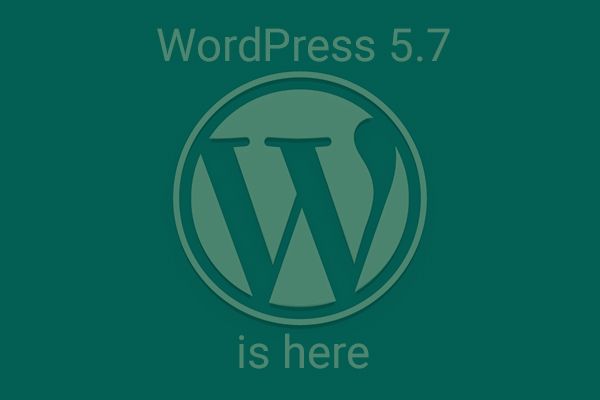 WordPress's new version 5.7 was released on March 9, 2021, as the first of three vital WordPress core releases this year.
The new improvements in WordPress 5.7 make WordPress block editor functionality and user interface and the major gateway for WordPress in 2021 is Full Site Editing with Gutenberg plugin.
By Dragging and dropping blocks you can expand your reusable building blocks, migrate from HTTP to HTTPS at the push button, and much more. WordPress 5.7 has some good improvements for you to manage your content and improve some technical points.
1. Smooth roadmap in your editor
This new release version comes with a few improvements like the Gutenberg block editor. With these modifications, you can have more control over the layout of your pages without diving into code. In the newly released version of WordPress 5.7, you can simply Drag and drop your content, impress with full-height blocks, use more options for the buttons and resize your social icons.

2. Efficiently migrate from HTTP to HTTPS
Securing your website with an HTTPS connection is important these days as it defends user information, files and other data hosted on your site. It's good to know that everything new and upcoming on the web requires a safe mode to be on your website. With this new version, WordPress can tell if a site is running on a hosting plan that uses HTTPS but has not yet switched from HTTP.
With a single-click update process, you can simply migrate to HTTPS, as WordPress automatically updates database URLs whenever possible. Now almost any time it's like everyone has to activate that SSL certificate, check your settings and move it with a single click if you are still using HTTP.
3. A Latest and simpler colour palette

The new colour palette WordPress 5.7 is reduced with the number of different 56 tones. All of the colours in the WordPress source code except seven core colours are introduced. All of this fulfils the mentioned contrast ratio when placed again in white or black.
All seven core colours start on white and get darker with the same amount of 'dark' on each shade onto dark. You can find this newest and simple colour palette in the standard WordPress colour scheme. It gives developers a colour palette with a massive reach of light and darker colour schemes.
4. Lazy loading: now serviceable for iframes
In WordPress version 5.5, lazy loading for images was introduced in August 2020. Lazy loading means that an image or object is not loaded on your website until it is displayed in your visitor's browser. This is done to reduce loading time for a page, and thus improve the speed of your website.
WordPress 5.7 also includes a new robot API that developers can use to maintain the robot's meta tags on a page. With a new feature called wp_robots, you can manage the robot's meta tags by adding their own filters. This is a new API that contains a setting to control if search engines are allowed to display large media from a website.
6. Advancement of jQuery 3.5.1
WordPress 5.7 adding a new version of jQuery 3.5.1. The function of jQuery is to make using JavaScript a lot easier on your website. This latest version comes with improvements in terms of features, security, etc.
WordPress 5.7 and SEO plugins
In the new version of WordPress 5.7, WordPress brings fresh colours. The editor helps you work in a few places you couldn't before without getting into some code or pro setting. The management you use most is right where you need it. Layout changes that should be easy, are even easier to make.

WordPress SEO plugins and tools are a major source of traffic for most websites on the internet. By optimizing your website for search engines you can rank higher in search engine results and grow your business strong.
WordPress 5.7 and 5.6 features comparison
WordPress 5.6 was the third and final major release of 2020 and had the goal of adding a new menu block, automatic updates for most important messages, widget editing and Customizer support in core, PHP 8 support and updating Gutenberg to the latest release version as we will continue to focus whole website editing about Gutenberg in 2020.
Take WordPress backup before initiating the update.
Video Position Control for the Cover Block
Patterns Organized in Categories
Characters in the Information Panel
Colour Support for the Lists Block
Social Icons Block
WordPress 5.7 is released on March 9, 2021. This version will attract mainly improvements and enhancements to the core and the Gutenberg editor. With this new version, the community hopes for more stable beings and better support for plugins and themes.
New feature added:-
Smooth roadmap in your editor
Efficiently migrate from HTTP to HTTPS
A Latest and simpler colour palette
Lazy loading: now serviceable for iframes
Latest Robots API
Advancement of jQuery 3.5.1
WordPress 5.7 compatibility with PHP 8
WordPress focus aims to be compatible with PHP 8.0. However, the PHP 8.0 update with a large number of changes affecting backwards compatibility, and many features that were included in the PHP 7.x feature releases, have been officially removed. The nature of WordPress users and the commitment to basic user compatibility are to be considered. The state of PHP 8 support within the wide range of plugins and themes is impossible to know.
WordPress is never used without any theme or plugins, if WordPress itself runs on PHP 8 that does not mean full compatibility.
At the same time, being unable to claim full compatibility as the process to achieve this state requires a large ecosystem takes more time.